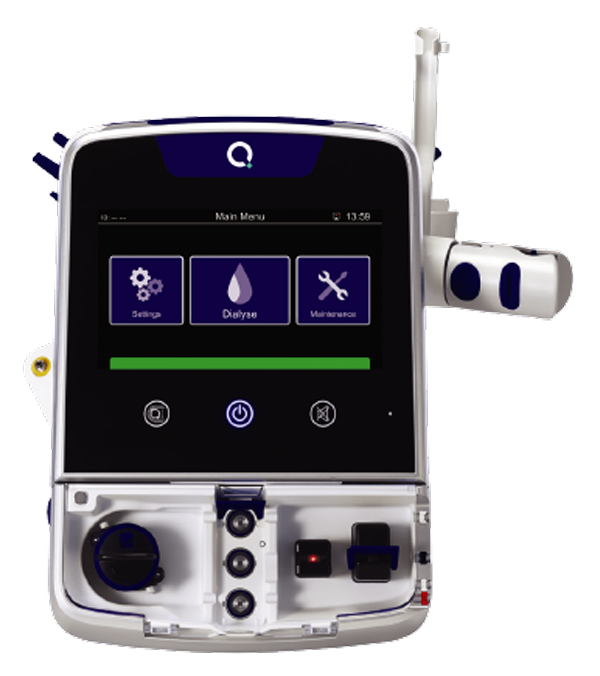 Introducing the Quanta™ Dialysis system as the first and only FDA-cleared device offering Trinal Kidney Therapy™ (TKT™). With TKT, acute settings can perform IHD, SLED, or bagless CRRT* all with a single, easy-to-use, and operationally efficient system, giving you the control you want, on your terms. That's Quantability™ – a quantifiable leap forward in kidney care.
Sustained Low
Efficiency Dialysis
DIALYSIS CARE, ALMOST ANYWHERE
Choose more. The dialysis industry is antiquated and inconvenient—filled with little change over the last 30 years. We designed the Quanta Dialysis System to provide quality care while giving patients and caregivers the clinical performance, choice, and access to treatment they deserve. It's our vision to deliver innovative dialysis care to every patient in every setting.
THE QUANTA DIALYSIS SYSTEM IS COMPACT, POWERFUL, AND FLEXIBLE
At just 71 pounds, the Quanta System is small, versatile, and modular for optimal convenience. Its intuitive design redefines how kidney care is delivered, treating patients with varying clinical needs across multiple care settings. Designed for use with dialysate quality water—either your centrally installed reverse osmosis system or our tap-to-drain portable RO cart. The system features a modular design that offers users the ability to purchase only what they need.1
INCREASED EFFICIENCY, REDUCED RISKS
Maximize staff productivity and minimize downtime with the Quanta Dialysis System. It's intuitive design reduces training burden, while the dialysate cartridge eliminates the need for post-treatment chemical disinfection.1,2 The system is a user-friendly device that helps providers and caregivers deliver truly optimized care.1
REFERENCES
Quanta Dialysis System User Manual.
Buckberry C., et al. Flow balance optimization and fluid removal accuracy with the Quanta SC+ hemodialysis system. Expert Rev Med Devices. 2020 Aug;17(8):835-843.
510(k) K222067 for CVVHD and SCUF: two modalities of CRRT
A passion for innovation. A drive to deliver. Quanta is looking for dynamic people to help us grow.